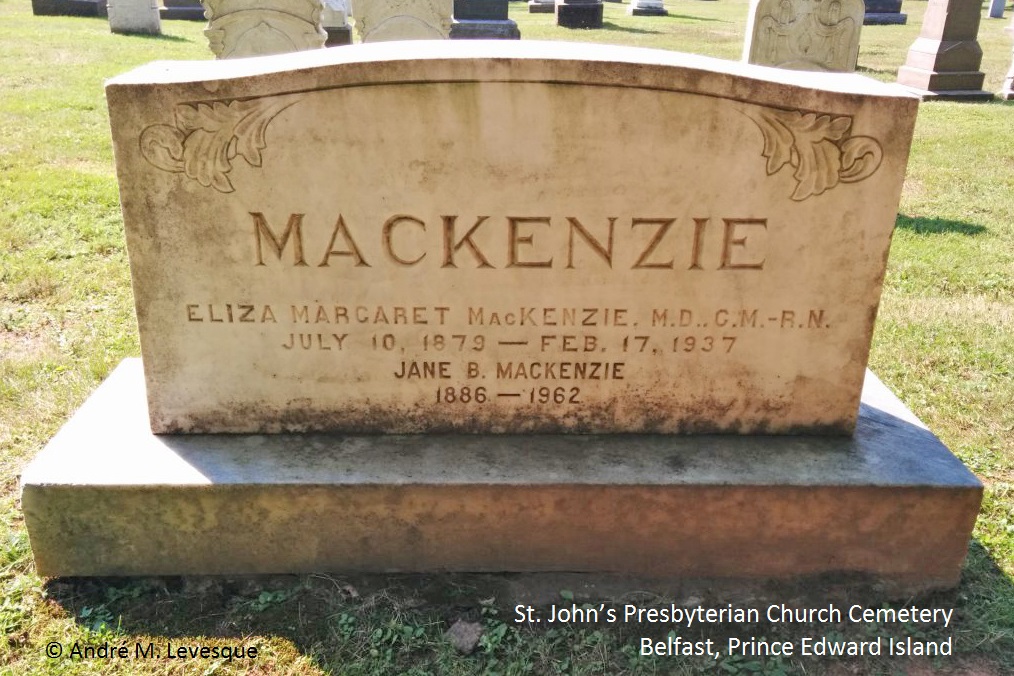 Click Image to Enlarge.
Located in St. John's Presbyterian Church Cemetery, Belfast, Prince Edward Island is the grave of Elizabeth Margaret MacKenzie (10 July 1879 - 17 February 1937), daughter of Donald MacKenzie, a farmer and blacksmith, and Christina McRae of Flat River. Eliza, as she was called, completed her studies in 1895 at the Prince of Wales College in Charlottetown, Prince Edward Island, and taught school for several years in the local area of Belfast. However, it is her headstone (shown in the photograph) that serves as a compelling memorial and testament to her contribution to medical history in Canada, the United States, France and England. With the shown post nominals of "M.D., C.M.-R.N.", it provides an insight of an unusual career in the medical field, first as a medical physician (M.D.), followed by training as a Certified Midwife (C.M.) and Registered Nurse (R.N.). Having such inscriptions on a headstone is very rare but provide a historical record of her achievements and challenges throughout her lifetime.

Eliza entered the medical school of Dalhousie University in Halifax, Nova Scotia in 1900 and graduated four years later, among 16 others, including four women in her senior class. Although the medical school has been an integral part of the University since it was established 1868, it was not until twenty years later that it accepted its first female student. On 29 November 1904, the Charlottetown "Guardian" announced that Dr. Eliza MacKenzie intended to open an office in Charlottetown in a few days and hence became the first woman to set up a medical practice in the province of Prince Edward Island. Although she advertised her specialization in diseases of women and children in the local newspapers, it was nonetheless difficult for her to find acceptance as a young woman physician on the Island and was unable to build a successful practice. It appeared that this conservative society, particularly the men and the prevailing attitudes towards women doctors, were not ready to make lifestyle changes. It is known that by June 1911, Eliza had abandoned her practice and was living with her parents in the Flat River area. Soon after, she changed course and undertook nursing studies at St. Luke's Hospital, New York, from which she graduated in 1913. It appears that she lived in New York City until the First World War when she served as a nursing sister overseas. She first enrolled in February 1917 with the British forces in the Queen Alexandra's Imperial Military Nursing Service (QAIMNS) and was stationed in England and then served six months at No. 24 General Hospital (France), during the Battle of Passchendaele, and three months at 48 Casualty Clearing Station. Subsequent to a medical examination on 20 December 1917, she was considered fit for the Overseas Military Forces of Canada and transferred to the Canadian Army Medical Corps on 25 February 1918 and served in England for a year. She became ill in September of that year with a flu which progressed to pneumonia to pulmonary tuberculosis and required for her to be sent back to Nova Scotia in March 1919 for hospitalization. No longer fit for service, she was discharged from the military in August 1919 and rejoined her family. Eliza eventually returned to New York and resumed her nursing duties at St. Luke's Hospital until 1937 when she fell ill again, presumably of tuberculosis. Her sister Jane Bell MacKenzie travelled to New York and eventually brought her home to Flat River, her place of birth, where she died at the age of 58. It is worth noting that she had a brother, Sinclair Alexander MacKenzie, who served with the Canadian Infantry (New Brunswick Regiment) and was killed in action in France on 19 October 1918 at the age of 27 and is buried at the Naves Communal Cemetery Extension, France.

On this day, 10 July 2018, we commemorate the 139th anniversary of the birth of Dr. Eliza MacKenzie and celebrate more than 113 years since the first woman set up medical practice in the province of Prince Edward Island and who serves as a role model for others to emulate in serving her country and her community. Lest We Forget.